December 6, 2003
Greetings!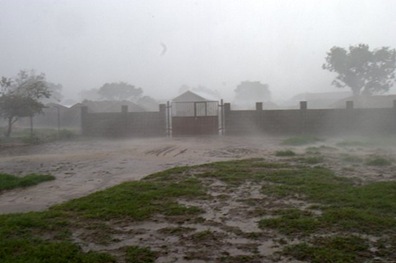 The day started with me practically in a panic but it has calmed down and I have managed a nap!  It was raining cats and dogs at 5:00 when I got up this morning.  I headed out with rubber boots and umbrella to "assist" the new cook who was on breakfast duty for the first time.
It turns out I was the breakfast cook for 16 children and 3 mamas today!  When I realized I was on, I reminded myself of "Lucy" in the episode where she was working in the bakery–we both had no business doing what we were trying to do!
Susan, the new cook, did arrive drenched and apologetic at 7:20.  She has no watch or alarm clock–again, we expect the Africans to have items that they deem unnecessary and too expensive–it is a miracle that she arrived when she did.  Over and over, I am learning that exact time is only important to us muzungus who keep schedules–no right minded African would have ventured forth in such a downpour;  they wait on the bad weather to pass and then resume activities. We, howev
er, allow the schedule to determine our activities.
Well, the reality was that 16 hungry children and 3 tired mamas were going to be arriving and so cooking was needed.  I had to call Mike out of bed to come and light the gas stove and get the grill to work.  We have been having problems with it igniting and this morning was no exception. Things might have gone smoother if I had been familiar with where things were stored but since I was in a huge commercial facility, the way I found things was to open every cabinet. When the children arrived and lined up at the wash basin, the pancakes were coming off the grill!  Yeah! I stuck around to make sure our dishwasher showed and then headed home to regroup.
It continues to rain and Casey and I are just staying in.  I am now taking worm medicine after some suspicious symptoms and it seems I have gotten the fungal ringworm that is going around as well.  I did some preparation for our weekly ROS meeting and it was an encouraging time.  I drove the Enis' to Entebbe so that they could catch their flight home for furlough.  It was a restful trip, good to be alone for a while.  We had an encouraging ROS meeting last night.  Shirlene shared that one of the girls at the girl's vocational center became aware of her salvation yesterday and there was much rejoicing over that.
Carolyn and I really wanted to get Molly from Sanyu and get her settled at
Rafiki before her furlough, so sweet Molly has arrived! She cried a lot her first night but the next morning she was very satisfied drinking morning chai with her new brothers.   
She is giving our very serious Mama Teopista a run for her money, there is a precocious personality behind those saucer eyes! 
She squeals the highest pitch squeal you've ever heard when she is disturbed about anything.   Somehow Teopista finds that delightful instead of infuriating, she throws her head back and smiles and says, "JjaJa, this one is very stubborn!"  I had to learn that that word means "bright" or "smart" and not obstinate as we Americans mean it when we use the word.  
Teopista raised 2 boys of her own and loves finally having a little girl.  Molly is not ready to handle the solid food that we serve in the dining hall, so we are running to town to get formula so she can drink her calories. It is so encouraging that we are starting to be entrusted with the babies.  I think how much healthier they will be with a good diet and personal attention in their early months.
better close now–love you bunches,
lissa
December 12, 2003
Dear Friend,
It has been a difficult week for me — not in work or anything other than my spirit refusing to be content in Christ. Woven in  and around that disquiet is that James seems to be aware that his time is drawing short and is purposing to savor all that he can while here.  That is a good thing; but it makes real that the end is near as I observe him getting up early to visit with his Dad, joining me at play time with the children, sitting and wanting to spend time talking with me, and walking around and photographing his favorite sites here around the village.  It has been a huge blessing to have him here with us.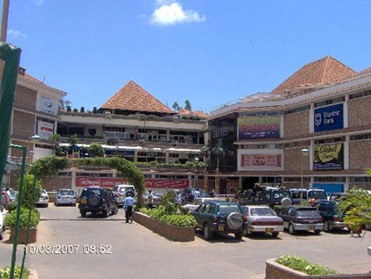 Today we bought a little artificial Christmas tree at Uchumi's–our Korean owned supermarket chain that we liken to Ukrops.  This little tree has 160 lights and that really is enough to make the effect.  I didn't think I wanted a tree this year.  The surroundings do not resemble wintry Christmas card scenes and I have always had a hard time thinking you can have Christmas in a Southern California or Florida setting!
In the end, sentiment won out. I did want to have some moments during the holidays when I could turn off all the lights and sit on the sofa and enjoy twinkling, festive colors.  I am planning a special lunch meal and Christmas Day worship service for the staff and children.  Pastor Fred is considering coming here and leading us in worship before he tends to his own flock at Central Baptist.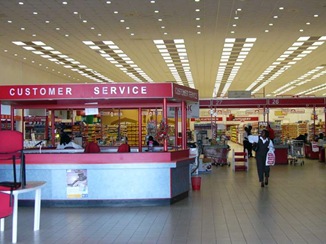 I went to Owino market which is the place we go to buy clothes for the children–I think I've told you about it –a huge market of second hand clothing from Europe and America.  James asked for that trip to be his Christmas present.  He got t-shirts and I was able to get 25 pieces of clothing for the children and 2 pairs of shoes for $10. As I was crossing the street to wait on Mike to return and pick us up , a thief ran up behind me and jerked my gold necklace off my neck.  So surprised and stunned, all I could think to do was to call him a SOB. Not a great witness moment!  I was a fool for wearing it–I had just forgotten it was on.
The good news is it cannot be stolen twice and it is gone and I need not worry or plan how to keep it anymore. You know Jane, as I stood on the corner, I cried–not for the loss of the necklace– but that circumstance of being robbed seemed to serve as a hub around which many pent up emotions coalesced and found expression.  Standing there feeling helpless with tears streaming, questions surfaced and my mind asked, "How much more stripping Lord?  It feels like my culture, my home, my family, my friends, teaching, singing, money, privacy, time to do nothing, time to study, my sense of knowing how to do life, the ease of moving around, all of it has been snatched like that necklace! How much more?"
I am ashamed of those thoughts and thankful to God that under the watchful gaze of my housegirl Flavia and James I recovered. I was able to see in Flavia's eyes such a sense of hurt that I had been "abused" that I wanted to straighten up and not cause her pain.  I surely didn't want to be another rich American crying over the loss of a material possession as I stood in the street surrounded by hundreds of people who did not know if they would have food today or not!
James spoke clarifying words and warned me not to become bitter or to let myself become suspicious or fearful.  The Lord met me with much grace and responded to my self-pitying question as I was preparing for the ROS Bible study meeting.  We are working through Matthew together and this week we focused on the Beatitudes.  He fed me promise after promise and I am grateful.  By the end of my preparation I was settled in my heart and marveling at the blessedness of having all that hinders God stripped away!
With much love,
lissa