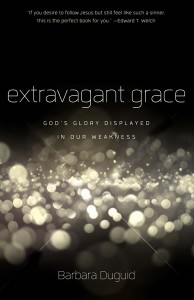 After reading Barbara Duguid's book, I found myself recommending it to everyone. I would use phrases like "paradigm shifting," and "life changing" to communicate the importance of this read in my life. Â 
Before I read this book I thought I understood grace. However as I read page after page of this 228 page book, Â I experienced Mrs. Duguid uncovering and kicking the legs out from under my non-stop tendency to try to please God and "win" His approval by means of my own goodness. In fact, she gets in the face of every Christian with statements like,
You will never be able to find steady joy in this life until you understand, submit to, and even embrace the fact that you are weak and sinful.

Let's be honest: if the chief work of the Holy Spirit in sanctification is to make Christians more sin-free, then he isn't doing a very good job.
Having spent years soaking in the writings of John Newton, Barbara Duguid has written a tremendously helpful work that challenges us to believe that our God has sovereign purposes in allowing our sin and failures to remain. Beyond that, as Tullian Tchividjian says, "we need more and more books like this that remind us that the focus of the Christian faith is not the life of the Christian but Christ."