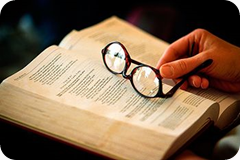 "What one thing about God in Christ speaks directly into today's trouble? …
Just as we don't change all at once, so we don't swallow all of truth in one gulp.
We are simple people. You can't remember ten things at once. Invariably, if you could remember just ONE true thing in the moment of trial, you'd be different. Bible "verses" aren't magic.
But God's words are revelations of God from God for our redemption. When you actually remember God, you do not sin. The only way we ever sin is by suppressing God, by forgetting, by tuning out his voice, switching channels, and listening to other voices.
When you actually remember, you actually change. In fact, remembering is the first change."
– David Powlison