I attended Trinity Presbyterian Church (PCA) in Asheville, North Carolina last Sunday and was inspired by a challenging sermon from Associate Pastor Mark Whipple. 
He began the sermon by suggesting that for the most part, our resolutions are self-centered, self improvement desires and give evidence of misdirected thinking.
He contrasted our normal resolutions of losing weight, quitting a bad habit, getting more exercise with the resolutions of Jonathan Edwards. Here are a couple of his resolutions that make the contrast very clearly and highlight how trivial most of our Christian resolving has become:
The Resolutions of Jonathan Edwards (1722-1723)

Being sensible that I am unable to do anything without God's help, I do humbly entreat him by his grace to enable me to keep these Resolutions, so far as they are agreeable to his will, for Christ's sake.

Remember to read over these Resolutions once a week.

1. Resolved, that I will do whatsoever I think to be most to God's glory, and my own good, profit and pleasure, in the whole of my duration, without any consideration of the time, whether now, or never so many myriad's of ages hence. Resolved to do whatever I think to be my duty and most for the good and advantage of mankind in general. Resolved to do this, whatever difficulties I meet with, how many and how great soever.

5. Resolved, never to lose one moment of time; but improve it the most profitable way I possibly can.

6. Resolved, to live with all my might, while I do live.

7. Resolved, never to do anything, which I should be afraid to do, if it were the last hour of my life.

8. Resolved, to act, in all respects, both speaking and doing, as if nobody had been so vile as I, and as if I had committed the same sins, or had the same infirmities or failings as others; and that I will let the knowledge of their failings promote nothing but shame in myself, and prove only an occasion of my confessing my own sins and misery to God.

9. Resolved, to think much on all occasions of my own dying, and of the common circumstances which attend death.

24. Resolved, whenever I do any conspicuously evil action, to trace it back, till I come to the original cause; and then both carefully endeavor to do so no more, and to fight and pray with all my might against the original of it.

25. Resolved, to examine carefully, and constantly, what that one thing in me is, which causes me in the least to doubt of the love of God; and to direct all my forces against it.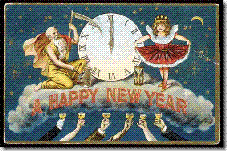 While thinking about more challenging resolutions for 2008, Desiring God Ministries posted "10 Resolutions for Mental Health."
This list was also very helpful in focusing my thoughts and hopefully deepening them  on the subject of resolutions here at the beginning of 2008.