March 7, 2004
Hey Lady,
 It is the end of the day Sunday and I am trying to get this typed before the generator is cut off at 10:00.  The electricity has been off all around Kampala for most of the day.  We picked two visiting mini-missionaries from Entebbe this morning.   They were not completely exhausted so they agreed to go to church with us. We took them to the church we go to in the city called New City Church.  Pastor Gerald is a fabulous preacher. We are very blessed to have this partner church to attend.  His congregation seems to be mostly young Ugandan college aged folks.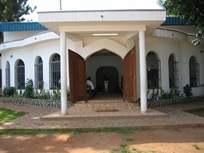 Since we have found out that Sophie's blood test was clear we have been anxious to go and pick her up. We were told to come pick her up Monday. The magistrate approved her placement with
us but Sanyu's Director has suddenly refused to let her go. When Carolyn called to make an appointment to get her, Joyce said, "You come for her in a month, she is not ready to be released yet."  We are both in deep confusion, Carolyn pressed a little and emphasized how well the children do here when they begin to balance the diet over 3 meals a day.  The Director could not be budged.  So, with heavy hearts, we wait.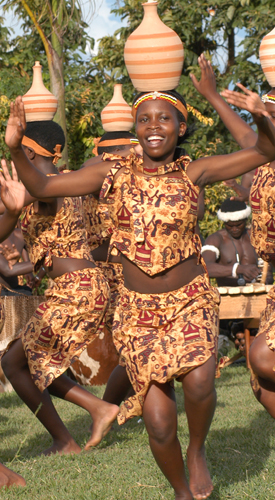 Yesterday, Carolyn and I went to Entebbe to the grand opening of the SOS Children's Village there.  They have 12 cottages built and President Yoweri Museveni was coming to speak and cut the ribbon on one of the cottages.  He was to be there at 2:30 but actually arrived at 4:15.  We did not mind the wait, we sat in plastic lawn chairs under a big canopy tent drinking sodas and watching different groups entertain; it was no hardship to wait.  My favorites were the dance troupes doing native dance. To be in such an entertaining, relaxing environment was a great gift.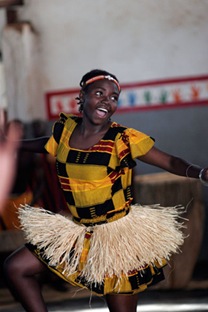 The dearest part of the day was when a group of 12 little seven to eleven year old girls from the war torn Northern area of Gulu danced.   These are little girls who watched their parents be tortured and killed, they are children who wandered aimlessly and 
were left to fend for themselves until an SOS center was set up to house and care for them.  SOS is a humanitarian organization and I am so grateful for their work.  They are able to tap into big corporate money gifts, mostly from Europe, to help the needy orphans here and all over the world.
Tonight, as I type, there are the familiar all night drums playing again.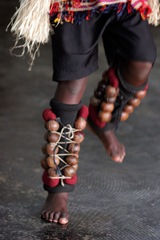 We wonder when Ugandans sleep–they seem to stay up all day and all night.  Pray for us here, there is much community discontent since we had to lay off so many construction workers.  The buildings that were funded to this point have been completed and that means men have no work here. This is hard on everyone as we live among people whose stability has been disrupted by this work completion.  The necessary lay off has left the community outside our gate feeling betrayed and disgruntled.  Girl the lights are going to go so I better too. 
Until later–I love you–lissa
P.S.  Jane, I am asking God to continue to help me be one who can receive help without feeling like a slacker. God uses you to help me release pockets of destructive independency.  Thank you.