November 11, 2003
Dear Friend,
The heaviness of my spirit yesterday was lifted by the work that He had prepared for me to walk in.  Yoweri awoke with chills and headache so Flavia was sure he too had malaria.  So, we spent the morning at SOS clinic again — his blood was clear but since the symptoms were there and we do not know the boy's history, he is on chloroquin for prophylaxis.  He also got worm medicine and amoxycilin.  I asked Flavia if she could keep straight all the medicines she has to give these children right now!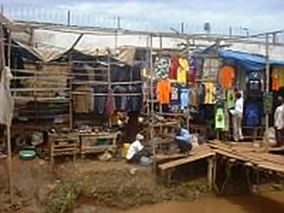 Today Carolyn and I are going with her cleaning woman Ruth to 25 acre, 30,000 vendor Owino market.   It is a market that mzungus don't usually go to alone.   You need a guide to get you through the maze of stalls and a translator is most helpful when the seller speaks no English!  You find yourself winding through a wood board, tarp covered labyrinth with an atmosphere that is tense and uncomfortable.  I always find myself  wondering if we'll find what we are looking for or find our way out! I also find myself fighting claustrophobic feelings.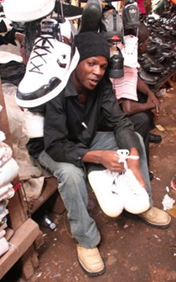 It is difficult to write an accurate description so that you can see this place of cramped, muddy, trails that wind and twist acre after acre. As you walk you see piles of clothes, belts, material, skirts, shorts, plastic ware, boom boxes and shoes all pressing in on you from all sides. This curious market is where we must go to outfit the children.  Children's clothes are not in demand here since they are expensive and considered luxury items.  So, with literally no other places to go to buy reasonably priced children's clothes–I head off to Owino.
When the shop keepers know a mzungu is shopping there is a frenzied effort to get your attention and to get you to stop and shop with them–hawking and bargaining make it an exhausting effort  for one who is used to Target! 
Before I ever arrive at the children's sandals sellers are running up to me with pairs of all kinds of shoes in their hands telling me these are exactly what I need.  With a determined resolve I press on in search of the "gently used" clothes that have come in huge bails from the cast offs of America and Europe.
I really get excited when I see the stacks of khaki shorts, or Disney t-shirts by the hundreds.  I love pouring over these cute clothes with labels like McKids, The Children's Place, Bugle Boy  and sandals made by Clark shoes. .  I want to find many pairs of sandals for the growing feet that are here in the village.  Casey and I get the children to stand on a piece of paper so we can trace their feet. 

We cut out the shape and label it with the child's name.  At Owino, I pull out the tracing and try it out in some sandals to get a good fit.
It is Christmas around here when new shoes, shirts and shorts are distributed!  Well, Mama Jenipher has noticed and commented that I don't keep my hair as nice as I used to so I guess I better shower and get dressed and welcome the new day the Lord has prepared.  Time to go get a haircut is a spirit lifting treat!
Love you bunches,
Lissa