This morning I am lingering over coffee and the Word.  I have arranged this as a day off so the family and I will head into Kampala and see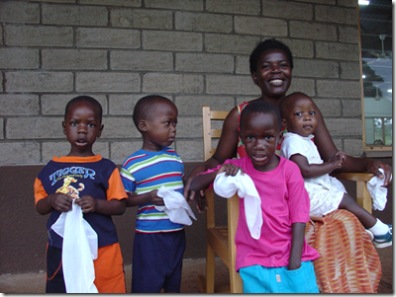 what we can accomplish today.  It has been a good week.  We have completed the screening, interviewing, orientation, and home visit on our 3rd housemother.  She will begin on Wednesday and we are hopeful that our 4 new children will come here to live on Oct. 6th.  Her name is Flavia (the same name as our new cook) and she is a widow who is supporting her older children who are in boarding school far from here.  I like her very much.
It is time for me to begin the "reporting" phase of my job so I have also spent this morning pouring over the background history of these 14 children so that I can write reports of progress that I have seen in them. 
Jane, each time I read these things a protective "How dare you do that to a helpless child?" response comes over me so strong.  I marvel at how many times in the past I have been able to turn away from suffering orphan pictures with no heart response at all — but He will not allow me to turn away from these.  A child thrown into a pit latrine and pulled out maggot covered, a child abandoned in a taxi park, twins left starving and alone in a house with their dead sibling lying nearby—it is by God's grace that they were saved from death and so may He grant them to grow up and make a difference in other lives! 
Caro
lyn has developed a relationship with the Administrator of Sanyu Babies Home in Kampala.  Our first children have come to Rafiki either from Sanyu or Nsambya Babies Home. Sanyu was begun in the 1920's and ministers to about 70 children from infancy to 4 years old. 
After that age if they are not adopted they move to foster care or other orphanges.  Sanyu is affliated with the Church of Uganda but also receives help from philanthropic volunteers from Germany, Austria and the United States.  It is doing a great redemptive work in the midst of an inundating orphan crisis.  I will not soon forget walking into rooms with children lining the walls eating porridge in those tiny little chairs.  To scan the room saying a prayer, "Lord which one out of all of these do you want to come to Rafiki?"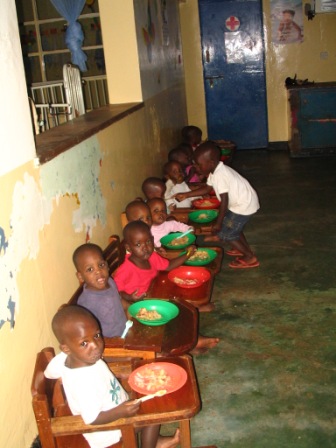 I finally went out and bought some cookbooks although there are not many available here. Why didn't I pack a cookbook in my suitcase? 
Flavia can follow recipes and I was weary of writing them from my head day after day.  We worked together to make Chicken Paprika with Herb Dumplings last night and it was very good!  I am finally getting the hang of the way things taste here so that I can manipulate ingredients to get the flavors I am hungry for.
She is able to do African dishes from her own memory and they are flavorful instead of bland-she did my ironing yesterday and sweeps and keeps after the dust which is a constant chore–red dust blows in through open windows and covers everything in a days time. I asked Carolyn's house help to come and teach her to clean because that girl is meticulous. 
Flavia learns very quickly so now our bathrooms are cleaner than I could keep them.  I am having to rearrange the kitchen until I buy a stool–she is about 4′ 9″ tall and I have every bowl and spice out of her reach!   She loves listening to Casey's radio/cassette player while she works.  She listens to music but more often she listens to a Ugandan Pastor who has a radio ministry.
love you bunches,
lissa