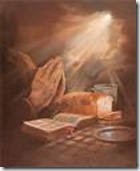 Today, I asked the Lord to unite my heart with those of His children who are sitting in dark jail cells because of their love of Jesus. 
Today, I confessed to the Lord that I rarely think of those who are persevering in faith after been ostracized and hated by family and friends because they honor the name of Jesus.
Today, I thanked God that He is a God who sees the distress of each of His suffering saints with the eyes of compassion, that He hears their cries for mercy and His heart inclines to rescue, that He is a God of justice and a Shepherd of His flock.
Today, as I sit in comfort, I asked the Lord to comfort my brothers and sisters with the prayers of those who have the persecuted church on their minds and hearts.
Today, in this devotional, I was reminded that nothing will be impossible for my God.  AMEN