Whatever we are full of shows doesn't it?  We wear outwardly what we are influenced by inwardly.
I was thinking about that as I studied Ephesians 5 with a friend this morning.  In verse 18 Paul says the same thing this way,
"Don't drink too much wine. That cheapens your life. Drink the Spirit of God, huge draughts of him."

(Ephesians 5:18, The Message)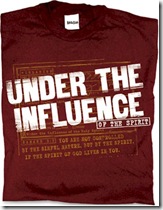 When we drink too much alcohol we come under the control or influence of the substance we have consumed.  Our inhibitions are suppressed, our coordination is off, our speech begins to slur and people around us can identify what inward influence has caused such outward behavior!  We are unable to hide that we are under the influence.
Paul invites the Ephesians to see the life of faith in a similar way.  From the biblical perspective, when we believe in Jesus it is the same as drinking huge draughts of the Holy Spirit.  An intoxicating element has been added to our lives.  An influence that Paul thinks should be as easily observable and identifiable as being drunk on wine. 
What are the observable –identifiable results of being under the influence of the Holy Spirit?  
abiding joy rooted in God rather than circumstances.
patience when the stressors that trigger impatience are great.
kindness when the inclination to be sharp and unkind is strong.
self controlled when the desire of your heart is to throw a huge hissy fit at some stressful situation.
giving love when your hungry spirit is crying out to be the focus of someone's attention and the recipient of satisfying love.
gentleness when you would much rather go after someone with a rod or whip!
goodness when it is so much easier to leave good things undone.
peaceful when the ground under your feet is heaving with strife.
faithful when what you are really full of is fear.
If these words are more and more a description of you then it would be safe to assume you are under the influence of the Holy One!  They are the evidence that you have drunk deeply of the fruit of the Vine rather than wine (John 15).
   Many people say, "Who will show us better times?"
    Let the smile of your face shine on us, LORD.
    You have given me greater joy
    than those who have abundant harvests of grain and wine.
    I will lie down in peace and sleep,
    for you alone, O LORD, will keep me safe.
Psalm 4:7-8