Why does it seem that people in developing countries trust God and praise Him with more passion than people in the western world?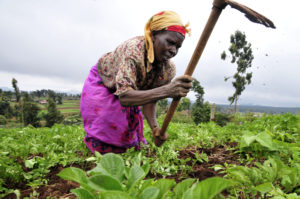 That was the question raised during a recent women's Bible study on Psalm 33. Asked another way, does possessing more "stuff" dull our desire to worship God with all our heart, soul and strength?
That question reminded me of an article written by Calvin Miller in The Disciplined Life in which he makes 9 drastic suggestions to help westerners who have grown numb and comfortable to increase their appetites for worshiping God.
According to Miller, the following are "nine rather drastic steps wealthy Westerners would have to take to truly identify with the developing world":
1. Take out the furniture: leave a few old blankets, a kitchen table, maybe a wooden chair. You've never had a bed, remember?

2. Throw out your clothes. Each person in the family may keep the oldest suit or dress, a shirt or blouse. The head of the family has the only pair of shoes.

3. All kitchen appliances have vanished. Keep a box of matches, a small bag of flour, some sugar and salt, a handful of onions, a dish of dried beans. Rescue the moldy potatoes from the garbage can: those are tonight's meal.

4. Dismantle the bathroom, shut off the running water, take out the wiring and the lights and everything that runs by electricity.

5. Take away the house and move the family into the tool shed.

6. No more postman, fireman, government services. The two-classroom school is three miles away, but only two of your seven children attend anyway, and they walk.

7. Throw out your bankbooks, stock certificates, pension plans, insurance policies. You now have a cash hoard of $5.

8. Get out and start cultivating your three acres. Try hard to raise $300 in cash crops because your landlord wants one-third and your moneylender 10 percent.

9. Find some way for your children to bring in a little extra money so you have something to eat most days. But it won't be enough to keep bodies healthy—so lop off 25 to 30 years of life.
In reality, giving up our stuff is no guarantee that we will draw closer to God. Our relationship with God is not really a matter of what we give up but of who we are devoted to. Still, the growing discomfort I felt when reading each item on this list makes me know there are things that I am more devoted to than the One who provided those things.