I have recently finished a book that asked the question, "Does your spiritual life taste stale to you?"  I guess that question touched a responsive chord because I plopped down the $12.99 retail rather than searching on-line and bought the book.  It was difficult to walk on by after the title grabbed my attention: I became a Christian and all I got was this lousy T-shirt.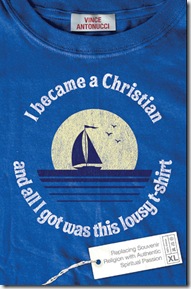 It was written by Vince Antonucci a man raised by a Jewish mother and abandoned by his poker-playing father.  He now pastors a church in Virginia Beach known as Forefront Church.
I found his storytelling captivatingly honest and the weaving of biblical principles through the stories fresh and inviting. It is funny and poignant and the first book in quite a while that I could not put down.
Imagine a believer suggesting that Christians should buy a bumper sticker that reads "Stop Having a Relationship with Jesus." 
When the shock of that statement wears off you see that he is pointedly inviting you to consider whether just a relationship with Jesus is enough for you.  He helps you think about something that might be more precious.  Here is how he makes that point:
 I think the baby would give you a really weird look…and answer, "I can't believe you would ask that.  How do I answer?  I mean "yes, we do have a relationship, but c'mon it's way beyond that.  I mean, I live insider her.  I can't live without her. 

I am totally dependent on her for everything that keeps me alive.  I can't do anything without her.  So yes, I guess we have a relationship,  but that's a colossal understatement." ((Vince Antonucci, I became a Christian and all I got was this lousy t-shirt, Baker Books 2008, p. 33))
The point of that chapter was to cast a vision of what abiding in Christ could look like in life.  He also pictured how we are willing to settle for so much less with Jesus as life gets in the way of our relationships.
I think I will return to this quick read again and again and allow his edgy spiritual outlook to shake up my thinking. 
This book is a perfect complement to a challenging women's retreat teaching that I heard on Ephesians 4.  The chapters illustrate what "putting off the old and putting on the new" looks like in real life.  The book is divided into the following sections:
Digress: I Came, I Saw, I Bought the T-shirt
Undress:  Taking Off the Shirt
Progress:  New Life, New Shirt
Regress: When You're Wearing the Old T-Shirt