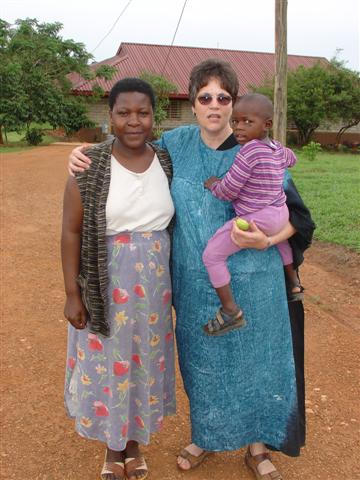 Our family served as missionaries to Uganda from August of 2003-October of 2004. I was charged with being the "Grandmother" and overseeing nationals who were hired as "mothers" to care for up to 10 children in an individual family cottage. Many of these children became orphans when their parents died from AIDS but others came to the village as a result of abandonment or deprivation. What a privilege to serve there! I was captivated by Uganda and it's people. The following are selected portions of e-mails sent to my friend Jane which help me remember again what it was like to live in the Pearl of Africa!
August 30, 2003
Dear Friend Jane,
It is Saturday morning and I look out the living room window at a sunrise that makes you want to cry and I can see my favorite muvele tree towering above the rest and am comforted by that sight once again. I have been with David in Psalm 51 and reread some 2 Thessalonians–guess He is not finished teaching me there. I have been strengthened by Amy Carmichael's words that "manifold" can be translated as many-colored and that there is many-colored grace ready to be applied to our many-colored temptations. I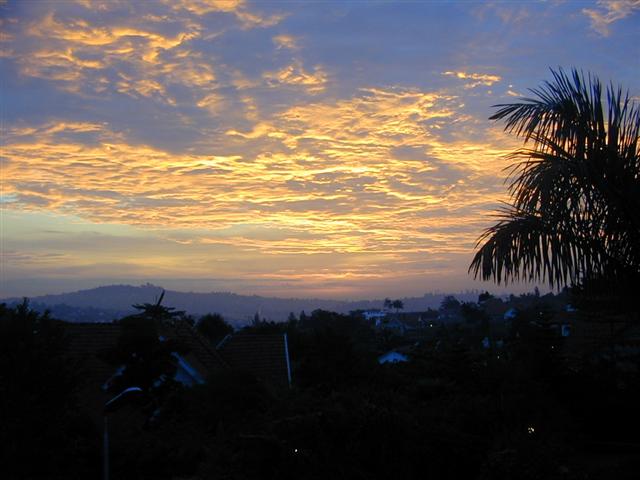 am enjoying getting to know Joanne Colvin she will be moving here to the village as soon as the duplex is completed and they hope that will be in October. Shirlene Ferris will also move to the other side of that duplex. Joanne is pressing to get the preschool open by Sept. 8th. We meet with one of the potential mamas Monday to have a 2nd interview and home visit with her. Her Pastor is a glitzy hoot who we work with as well –the mamas have to come here knowing their pastors are in favor and supportive of this. We go to the pastor and ask them to help us with accountability of the mother…they do not feel loyal to us muzungus but are very deferring to their pastors. Well, it is off to see how the mamas have done getting the kids to breakfast, with shoes on the right feet and t-shirts facing the right way. I love you my friend and rejoice that God brought you a cadre of helpers to make the calls about the retreats! Love to you,
Lissa
P.S. Mike is a happy camper–he now has wheels! He waited 5 hours for them to wash his 1993 Toyota Land Cruiser Prado. The tradition here is to wash the outside and inside–with hoses full of water! Mike pulled up in the car and it had squishy floor mats! He has felt emasculated having to wait on people to go to town. Now we will begin to seriously accumulate stuff!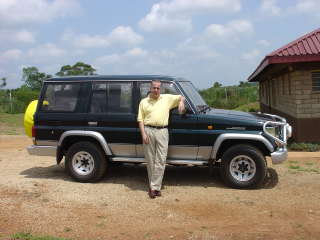 We picked the Prado because these vehicles were used as "village workhorses" to haul children to church, to pick up short term missionaries and all their luggage from Entebbe airport, to haul the lawn mower to town for repair, to haul weekly groceries from Kasubi market back to the village and many building supplies as the village was being constructed.
September 2, 2003
Dearest Friend,
My spirit soared with thankfulness to be able to share news and hear your voice Saturday. My answer to the question, 'Have you found a buddy?" is "Yes, in you!". Thank you for the great gift of that time–it made me feel like Lissa again. If I didn't finish my explanation, I type e-mails at home on our laptop and Mike transports our computer to the office of Africa OnLine to plug in to internet access there every couple of days. He is the only one who collects our e-mails now and he has heard my heart and places my mail in a "Lissa folder" to be read when he brings the computer back home from town. We were using Mike Enis' account until we established our own address but that is no more.

Our Sunday was a packed day–you really don't ever stop this job. We piled Peace's family in Mike Enis's car to go to New City Bible Church which is a Presbyterian Church and I love the pastor there. He began a series from Ephesians and is a reader of Boice & Calvin! Carolyn took Grace and her boys to another partner church to lighten the challenge of tending to so many kids in worship. Unfortunately (or fortunately who knows?), we may have to look around and visit another of our partner churches since 5 ROS are already attending New City.
We loaded the kids up for the return trip — got them to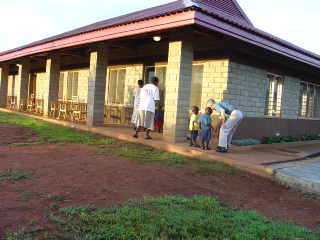 the dining hall and then I grabbed a bite to eat before we were on the road to Kampala again to take Grace to her new assignment and to let her 4 boys see where she was going. The walled, gated home where she was going to be staying had dogs and when the boys saw them they literally climbed me like a tree and screamed bloody murder–someone had told them that dogs eat people and so our poignant goodbye was turned into a chaotic rescue from dogs. 40 minute drive back to Wakiso to pick up Auntie Edith (pictured with me in the first photo) the mother's helper who will live with these boys this week–she was late so we were locked up in a rainstorm in the car with 4 preschoolers and nothing to do but climb over the seats. My prayer during a day like that is that something that God's Spirit worked into my soul long ago will come back and feed me and allow me to feed others. It is not my beloved contemplative life but as I shared with you –I am somehow content. Jane, it is almost as though I don't know myself anymore-it is hard to explain–this is very different here and the only thing I am sure of is I am being graced with a calm spirit.
Sorry this is so long–wanted to give you a picture of how a day unfolds here. The good thing about doing newsletters, and mass e-mails, is it forces you to lift your eyes and imagine what God might be doing in the midst of our messes! People are sinners all– whether spoiled Americans or spoiled Ugandans! Love to you precious friend, Lissa
Tuesday a.m. P.S.- Carolyn and I spent the day in Kampala chasing down references, interviewing, getting lab work done on our 1st potential candidate yesterday. I love what I have seen of her–she is 46 and is a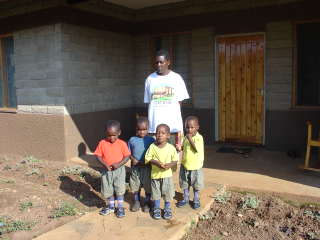 volunteer at Kampala Baptist Church. She has much wisdom and maturity and I just pray that this is God's choice. Her name is Teopista (Toe-piss-tah). Today we do it again with Maagambo Jenipher. Jane, when we visited Teopista's home– a little room with a blanket for a door that was about 8 feet by 6 feet wide. I was filled with such overwhelming emotion–her graciousness was both humbling and awe inspiring. I would so pleased if God would give me the contentment that I saw in Teopista as she shared hospitality in this modest little home. She kept her space neat and straight and as we sat together she shared treasured pictures of her sons. The conflict is that when I am off site working on candidates I am not overseeing Peace! Clinging to His garment and relying on His wisdom. Thanks again for the call–that time is still feeding my spirit! Love you bushels–lissa
September 4, 2003
As far as haircuts go–from one who is enjoying the best cut I have had in years–that is–it is staying in shape as it grows–find a good hairdresser! This area of living is not about relationships!
I am going to send Mike by the Post Office this week and see if any mail is there to retrieve. I do not get the sense that that is the most competent of systems but I hope now that we hold a key–they are beginning to deposit mail. You know I don't know about packages. Carolyn has been waiting on a package her old leaders sent the last day of BSF and it just arrived this week! I am not sure if that is the norm or an exception.
Amy Carmichael had thoughts on Psalm 4:7 today that enlarged my spirit. Vs. 7 is spoken by David as a man whose heart is utterly satisfied with God's will and contrasts sharply with the one in vs. 6 who says, "Who can show us any good?" David is not looking toward better times or better circumstances to be his good–he knows it is God Himself who is the more than enough God. David knew that by grace, God had poured a joy into his heart that was entirely independent of circumstances and was better than the finest food or wine! Amy describes that as flying right out of restrictive thoughts that cage out spirits right into the free air of God! Yes! That is it–my circumstances are not anything to right home about except that God has poured a joy that is entirely independent of my circumstances into my heart–greater joy!
Well, I have been here 3 weeks and the 2 mothers we had when I got here are now going or gone. Jenipher Magambo was delightful and if her blood tests come back negative today we are going to let Peace go and replace her with Jenipher. Teopista's test came back negative and so Saturday afternoon I will be leading a new mother orientation with these gals. I already love them both and pray that these are indeed God's choices and that we will be able to go the distance together. They both wear watches! Halelujah!
God is holding our beds back from being completed so that I will never again take a bed for granted! We are hoping to be able to roll out of bed by Thursday night–if not we have learned how to do it getting up from the floor! The groans are not that attractive though!
You asked how you could pray for me–these have come to mind:
Pray that God will give me sensitivity to my family's needs and I will be able to stop work and tend to them as well as others. Pray that as I learn to drive, God will enable me to remember all the differences and be intensely watchful!
Pray that my hip will hold up for the time we are to be here. I am walking a bunch each day as well as pounding it on poor roads when we are driving –it hurts much of the time now–I think it is the rainy season that impacts it the most.
Pray that there are days carved out in the next month that I might go shop and pick out items that will make our house a home and not just a place we are residing.
Love to you dear friend,
Lissa
Wednesday P.S. Jenipher's tests came back negative so we are starting with a clean slate this weekend. I took my hair clippers to the cottage today and we cut 10 children's hair–I had to wrestle a screaming Kizito for that to be done. Carolyn and Shirlene borrowed our car to transport our custodian's neice to the hospital–she had cerebal malaria. There is never a moment that you are not thinking how frail we are as you live here.
In the beginning days of the village it was difficult for the national women to settle into the structured life of being a "full-time" mother to the children who came to live at Rafiki village.
The promise of salary was alluring but after some weeks of a "routine" life they began to long for the freedom to get back to their villages, to dig in the garden and to "move about". Part of my job was to help interview women to determine their faith and commitment. If the interview went well, Carolyn and I asked to visit in the homes to determine if the women were truly "free" to serve full time in a cottage at Rafiki. Some women needed the salary so much they were willing to leave their own children to come and care for orphans! I can remember asking a potential mother how her children would get along without her to care for them and she responded, "JjaJa, somehow they will be okay." I came to understand that phrase not as a flip response but as the pragmatic philosphy of women who had to trust in something more than their own abilities to ensure the safety of their children. This is a culture where many children die before reaching adulthood. Following the interviews I would meet the women at a lab called "Ebenezer" in downtown Kampala and pay for them to have a blood test.It was necessary that they be free of HIV, Hepatitis C and TB if they were going to be eligible to work with the children. Time after time we had wonderful faith filled women who had to be rejected because their HIV status was positive.
Often times they were not aware that they were infected with the virus. My heart clutched as I delivered the hope snatching news that was a double-edged assault on these women. Not only were they carrying a deadly virus but they were not going to be given a job that would provide means to help them and their extended families. Not once do I remember the health news being what saddened them–it was that they were not going to be hired that caused them the deepest grief.
Sept. 11, 2003
Dear Friend Jane,

It is our one month anniversary of our arrival in Uganda. Somehow it seems longer! Mike has really come up to speed with his financial job in the last week and seems very satisfied that this is something that he can streamline with the computer skills that he has. I know he will.
Yesterday, I felt like the Psalmist in Psalm 61:1–I called out to God as my heart grew faint. He led me to pick up one of the tapes you sent from Trinity and Jeff's sermon on the sufficiency of Scripture fed my soul. He really hit the nail on the head–inerrancy is not the battleground–sufficiency is! His reference to Dr. Boice was very much appreciated as well. His warning about being hyper-appliers of the Word was a good warning too–God has gifted him with much discernment and that preaching was what I needed at that moment.
I interviewed a potential cook yesterday–would have hired her on the spot but Mike did not want to make the decision that quick. She can "compose" which is unusual here–look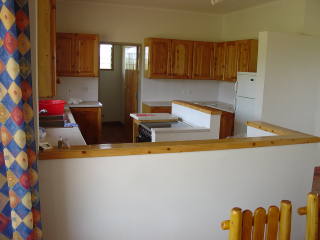 ed in my pantry and began a shopping list immediately. She has worked for a French couple (who divorced) and a Dutch couple who shifted back to the Netherlands. That she can compose thrills me because I will not have to plan menus (the hardest work of cooking for me). Anyway, she had already found a house near the village to rent and was willing to shift yesterday. That is not unusual here–if you find a potential job you are ready to begin or risk losing the opportunity. We will let her know on Monday. I am ready for help but not ready to have someone in the house all the time. We have screened and approved another mother so we will go to the 3 babies homes next week and try to bring 4 new children to the village and open Cottage #3. Praise be to God for the things He has done.
With much love,
lissa
September 17, 2003
Dear Jane,
We have had a successful day in Uganda–I got a haircut-we opened preschool, found an internet café' (sorry for the duplicate e-mails-we thought the last ones had not gone out.), shopped in preparation of our new cook starting tomorrow. She is not the skilled one but a humble 20 year old
from Rwanda named Flavia who wants to learn! Pray that her home economics course helped her have a good foundation. Got to get back to the village. I will type again soon.
Love,
lissa
Saturday, September 21, 2003
Dear Friend,

I look out in my front yard this morning and there are 3 birds that look like a cross between peacocks and guinea hens. We all have been trying to catch a shot of the national bird–the crested crane. We have a pair who love to feed in the fresh mown grass around our homes. Dr. David Wells said this was the best bird watching place that he had ever been in his life. He and his wife are big into bird watching. There is always something fascinating to see here.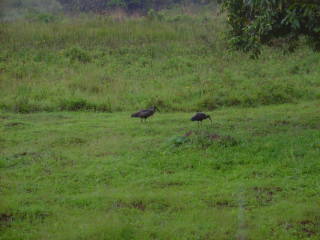 The enthusiasm of the mother's helpers about a new ant swa

rm even prompted me to help them collect some of those tickly-squirmy varmints before they burrowed in the ground. I do not see the attraction but these gals are thrilled at the snack from heaven when it comes. Our "streetlights" stay on all the time and the ants are attracted to them when they swarm out of a too full mound. Their wings fall off and they fall to the ground. Our friends from outside the gate love to come in and have an easy harvest.
Anyway, today we get a White Westinghouse ( an American brand name makes your heart soar here) refrigerator to replace a tiny cooler box that Christine was using in this house. Her's iced up in the back and ruined food as well as being too small. All transactions are in cash so Mike counted out over a million shillings and headed to town to purchase this cold machine—the Ugandans are aghast that we put fruit and vegetables in the cold box-convinced that they ruin the flavors.
A mini-missionary from Tucson, Arizona came last night to stay until early October. It is always fun to see their reaction when they first see how nice the facility is – she was thrilled with the guest house. She will volunteer in the preschool in the morning and then help Shirlene in the Girls' Center in the afternoon.
Tomorrow, Mike will borrow Stu's clunker car and we will transport the 10 children and 2 helpers to Wakiso Central Baptist which is a national church built out of slab wood and benches with no backs. I am giving Carolyn a weekend to go to church without distraction and honoring a promise that I made to visit this church. It will be a service all in Luganda. These lovely, gracious people are so hospitable that if they see mzungus in the congregation they translate the whole service into English. They love to worship. There will be chickens and goats walking close by to keep the children entertained-that is Children's Church in Africa!
Please read more "Out of Africa" posts by clicking the Out of Africa category in the sidebar.